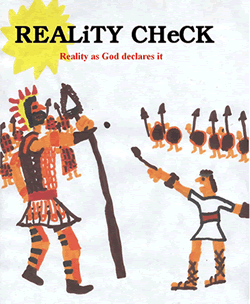 REALiTY CHeCK Childrens Radio
MISSION STATEMENT
In order for our children to grow up with a self-conscious Christian worldview that will help them live their lives in such a way as to serve and glorify God, it is vital that we teach them solid, Biblical principles, and that they have a clear, comprehensive understanding of the character of God.
Reality Check, a 5 minute weekly radio program, was designed to help aid in that work. Reality Check is hosted by roving reporter Nit Whitly, who travels through time and space to interview Biblical figures such as Abraham, Moses, David, Peter, John and Paul to gather valuable information on the character and principles of God that give us insight into reality as it really is. He then provides practical application of what we have learned.
Reality Check is a fun and entertaining way for parents and teachers to help children learn about reality as God declares it.